Nursing Uniforms & Scrubs in Montgomery, AL
For the widest selection of quality school and nursing uniforms, nursing shoes, and more, visit Serendipity Uniforms today. For over 30 years, we've been Montgomery's favorite, local uniform store for nurse uniforms.
The Best Nurse Uniforms & Nursing Scrubs in Alabama
Whether you are looking for school uniforms, chef coats or nursing scrubs in Montgomery, AL you'll find what you are looking for at Serendipity Uniforms. For over 30 years, we've been providing our customers with the widest selection of work and school uniforms. We think that finding the nurse uniforms you need in a style you love should be fun and easy. That's why we pride ourselves on our unique inventory. From the moment you first come to see our collection, you'll find that serendipity is something you can expect every time you walk through our doors. If you're looking for school uniforms or scrubs in Montgomery, AL, you'll always find the best selection and greatest deals at Serendipity Uniforms.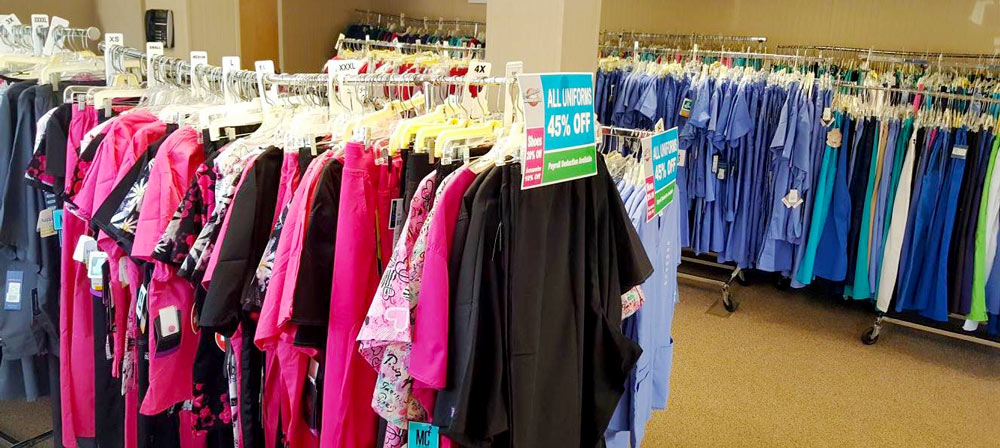 While other stores that sell nurse uniforms and scrubs in Montgomery, Cecil, Hope Hull, and Montgomery County, AL may offer some of the essentials, they don't have the same selection that we do. We work with local schools to make sure that we have a variety of items for every student. We also carry everyone's favorite brands of scrubs, including Grey's Anatomy and Cherokee. When it comes to finding nursing scrubs and nursing shoes in Montgomery, AL, we have something to fit everyone's unique style, so contact us today. Here are just a few reasons why people choose our uniform store first for all their uniform needs:
We offer a fun and enjoyable shopping experience.
Our dedicated staff is ready to help you find exactly what you're looking for.
We have the widest selection of scrubs and nursing uniforms in the area.
We have a traveling (mobile) uniform store that goes all over the Southeast to homes and hospitals so you can have a chance to browse our selection of nursing shoes no matter where you are.
And great prices!
Areas Served
Montgomery, AL
Montgomery County, AL
Birmingham, AL
Tuscaloosa, AL
Auburn, AL
Decatur, AL
Huntsville, AL
Dothan, AL
Mobile, AL
Columbus, GA
Atlanta, GA
Chattanooga, TN
Nashville, TN
Columbus, TN
Meridan, MS
Jackson, MS